Move the Earth - the ministry of Shawn and Glennys Hyland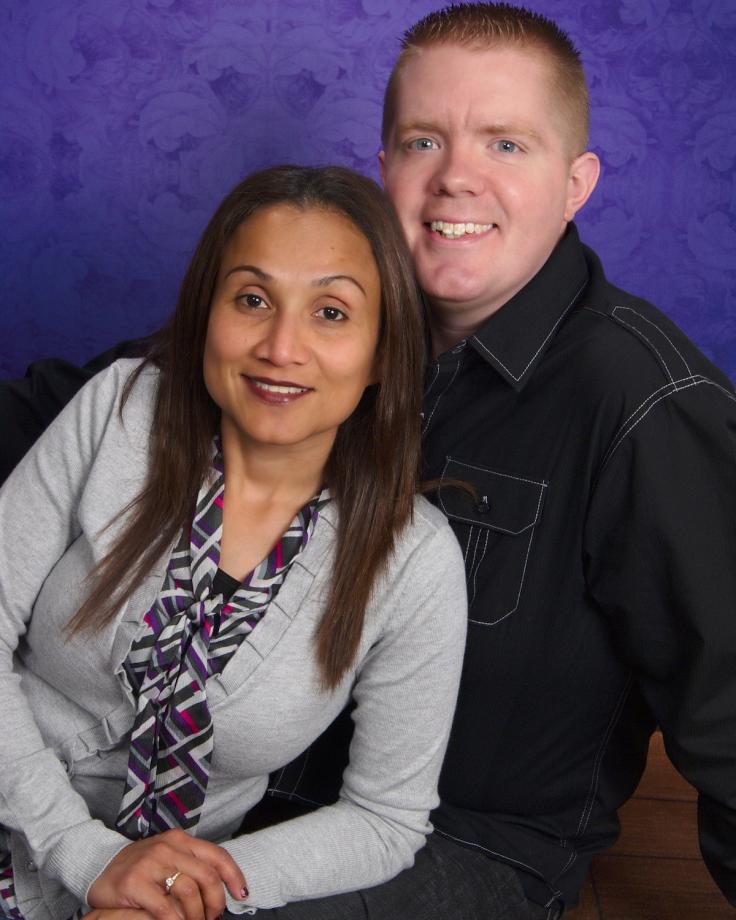 Shawn and
Glennys Hyland have been married for 13 years with 4 children. Their marriage has faced financial challenges as they ​obeyed the voice of God to resign from strong career positions in 2003 to relocate to Columbus, OH in hopes of attending World Harvest Bible College. They have experienced numerous miracles and answered to prayers ranging from finances, to health, to relationships and spiritual growth. Many of these accounts can be read at
Glennys
' Blog 'Life Experiences'.
Shawn graduated as the Class Valedictorian from World Harvest Bible College (now Valor Christian College) in 2006 and received the highest student award, the Pastoral Medal of Honor for his moral and spiritual leadership. He has served on staff in pastoral leadership positions at two great local churches for over 7 years.
Shawn Hyland is living evidence of personal change
. Growing up in the gothic culture of paganism, death metal with nihilistic tendencies and beliefs, Shawn experienced a dramatic encounter with Jesus Christ at the age of 18. This radical conversion changed and regenerated this broken and hostile young man. He was reborn, with a passionate love for Christ and a new love for life.
Shawn is an Ordained Full Time Minister under the
World Harvest Ministerial Alliance
since 2006, Rod Parsley Ministries, Columbus, OH
The Impact of Shawn Hyland's Ministry
The heart of Shawn Hyland is to take average everyday believers and transform them into compassionate, contending, committed Christ Followers - who live a purposeful life of self denial and servant hood. His passionate sermons and intense storytelling forms a unique and powerful ministry experience.
"Shawn Hyland has been blessed with a keen ability to communicate the truths of the Word of God in a very clear and easy to understand manner. His passion to see the church committed to the Savior is contagious. He has always been a great blessing to our congregation and a dear friend"
Pastor Joe Sorce - New Beginnings Christian Church, Brick, NJ
http://www.newbeginningsnj.org/
"Shawn Hyland is a passionate leader in the Kingdom in Ocean County, NJ. He has spoken at our church, shared a leadership role in community wide evangelistic activities, and prayed with me regularly. When Shawn spoke at our church, he made a very complicated subject easy to grasp and applied his teaching with great impact. He lit a fire in some of our members that is burning to this day."
Pastor Bill Meyer - Alive Again Alliance Church, Toms River, NJ
http://aliveagainalliance.wordpress.com/
"Shawn Hyland is a profound speaker and uniquely gifted in his ability to impart his burden for today's church and society to others. Shawn has a message that changes lives and impacts the culture we live in. He is "The Voice of Relevant Truth".
Pastor Drew Overgard, Cedar Run Assembly of God, West Creek, NJ
http://www.cedarrunchurch.org/

"In a time when the world says truth is relative, Shawn establishes the Truth of God as more relevant than ever. Shawn has done his research and can easily and effectively communicate what we believe and why we believe it, exposing the false thinking of our times and calling us to boldly proclaim the Truth. Shawn is passionate about the call that God has on his life to declare the authority of Christ, reassert the faith, and unite the Church. He is a man who is willing to give it all to make Jesus known and his passion is contagious as he leads the charge in God's movement to transform the world."
Pastor Bob Nash, Building on the Rock Church, Manchester, NJ
www.botrchurch.com
"Every day there is more and more talk as the world moves closer to a generic god, which does not include our Glorious and Risen Savior Jesus Christ. Every day the Sovereignty of God and His Word are being challenged in our society. As the love of many grows colder and the world grows darker, Shawn boldly proclaims the Truth of God! Shawn's presentation is delivered with Jesus' love as well as the boldness of the Holy Spirit, as he challenges the false thinking of today."
Pastor Mike Dryburgh, King of Kings Church, Manahawkin, NJ
http://kingofkingscc.wordpress.com/​